Georgia O'Keeffe at the Shelburne Museum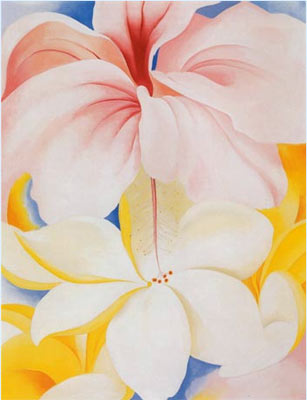 Hibiscus with Plumeria, Georgia O'Keefe at the Shelburne Museum.
Bluebird skies, warm weather and few tourists. Friday's visit to the Shelburne Museum to view the Georgia O'Keefe exhibition was a technicolor success. We had friends visiting for the last week, a couple and their three young children, and we planned a day trip to see O'Keefe's paintings, to wander around the living history exhibits, tour the steamboat Ticonderoga and generally ramble the beautiful grounds.
The exhibition, Simple Beauty: Paintings by Georgia O'Keeffe included about two dozen "sublime landscapes of the American Southwest, breathtaking close-up views of flowers, abstract paintings, still-lifes, and city and farm scenes that are not widely known." I wandered slowly, lucidly from room to room, soaking up the vibrant images. I've long been fascinated with O'Keefe's work, beckoned to see things a little more clearly, a little more simply. These works were no exception. Purple Petunia, for example, practically vibrates with dark purple petals, smooth surfaces guiding the viewer's eye into a mysterious center. There's a darkness to the painting, as if Georgia O'Keefe were revealing something heavy and troubling that she couldn't quite identify but which weighed on her. You can almost feel the tickle of the flower's fragrant perfume inside your nostrils. Or at least I could! But that's probably because I was standing too close...
After the exhibition we visited the carriages, watched a "settlers' home" performance where a convincingly dressed "settler" instructed us in the processing of flax to make clothing while a chicken roasted in an open hearth. Then we locked one another up in the old fashioned jail and took photos, watched the ducks bobbing in a weedy pond amidst towering willow trees where our friends' younger son managed to get himself soiled with fresh duck dung. Then off to to the the general store exhibition before settling in to lunch. After filling ourselves with unhealthy savories we headed off to the steamboat Ticonderoga for an eye-opening lesson on why we should expect more from Lake Champlain Transportation, our local ferry boat operator.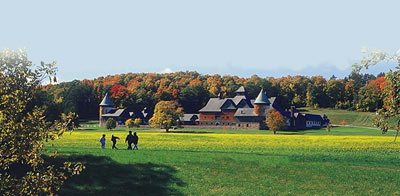 Shelburne Farms located in Sherlburne, Vermont
In the afternoon my wife and I headed back across the lake on the ferry, and the others headed off to Shelburne Farms. The kids learned to milk a goat, held chickens and saw a pregnant pig among other interesting farm adventures. And they brought home plenty of the homemade cheddar cheese for us to enjoy in the evening. All told, it was a splendid excursion, and I'll be planning a return visit with our next visitors since there's much I didn't have a chance to see and do.