Naked Southwest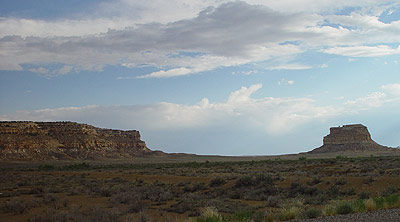 It was inevitable. Like falling in love again. Like sunrise after a long, dream-filled night. Like the sort of deep satisfaction discovered in a bowl of green chile stew after four years of Brie and foi gras! It was inevitable that my return to the Southwest after four years in Paris would rejuvenate me, no, would plunge me headlong into the thrill and dazzle of naked living…
Naked?!?! That's it. Unadulterated, unveiled, stripped of pretense and modish packaging. Naked life. My wander through the Four Corners, mostly centered around a couple of plum destinations in New Mexico and Utah, reacquainted me with the vibrant raw beauty and soul nurturing smorgasbord of the American Southwest.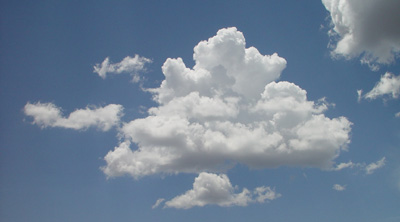 Okay, I'm gushing. Sorry, but it's an honest reaction to ten intoxicating days spent rediscovering a small chunk of the world that was my home for four years between 1996 and 1999. Old and new friends; blue sky; stark desert aesthetics; outdoor adventure; great grub; a calmer, gentler rhythm; the always invigorating companionship of my heart's distraction (MHD); and a healthy dose of nostalgia and romanticism. Intoxicating ingredients to be sure. Here is the recipe (as clearly as my giddy memory can transcribe it.)
Between February and June I prepared, initiated and executed my relocation from Rome and Paris back to the Empire State in the good old US of A. Although I was shipping my household goods to the Adirondack shores of Lake Champlain, my mind was distracted. The acquainted will dismiss it as my usual wanderlust, a tendency for my compass to go haywire just when it is supposed to guide me "home". But there was a magnetic pull that exerted itself by intensifying degrees the nearer I got to quitting Europe. A competing "homing instinct", if you will.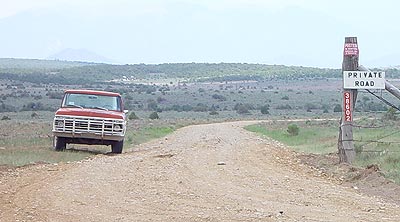 There was a design at work, I told myself. Four years ago, I allotted ten days to wander circuitously through Utah, Colorado, Wyoming, Montana and South Dakota after departing Santa Fe and before driving my belongings east to relocate to Paris. It was as much an allowance for introspection on the transition from life in Santa Fe to life in Paris, as an excuse to explore. This urge compelling me to route my repatriation through the Southwest seemed to respond to an almost Aristotelian demand for symmetry. Going too far? Fair enough. But somehow I know that book-ending my time abroad with a wander through the Southwest was indicated.
So, in short, our arrival in Denver, Colorado and the week and a half before we returned our dusty but intact convertible Mustang to Hertz, checked our luggage and sun dried selves into the able care of United Airlines, and lifted off into the azure blue skies bound for New York, these ten memorable days were propelled by a palpable sense that I was supposed to be traveling there, now. That I was yielding to an inevitable and healthy yearning to return to these people and places. And, aside from a pair of jarring challenges to this conviction on the final morning of our departure, the entire journey was sublime. Oh, and naked!
Arrived in Denver's still new Denver International Airport, filled to bursting with sunshine entering through the circus tent-like ceilings. There had been a shift… Gone were the hurly-burly of New York City, the drawn faces and terse comments of Newark International Airport. The mood was casual and upbeat. People were friendly. Baggage recovery was calm and easy. Our attendant at the Hertz pickup counter was so chatty and amicable it seemed like she wanted to come along for the ride. Within thirty minutes of touchdown, we were sailing across the toasted plains on Peña Boulevard toward Denver where we rendezvoused with a friend for lunch. We enjoyed a delicious, wholesome meal in the sunlight before getting a driving tour of the ever-gentrifying city and suburbs before heading back to his airy but cozy, minimalist condo for a catch-up and a first meeting with his charming girlfriend. Verdict? She's cool and attractive. High marks from both of us. Then, in the late afternoon, we headed south.
Out of Denver and down I-25 past Colorado Springs toward the New Mexico border. I was feeling the pull of the open road, but MHD's more pragmatic mind had narrowed down a couple of B&B's relatively near the border, and when we arrived in Walsenburg, she directed us onto Route 160 to Alamosa, Colorado where she had arranged for us to spend the night. Since our arrival would be late, the owner had left a key at the entrance with directions to our rooms and to the kitchen where we could find a late-night snack. My kind of place.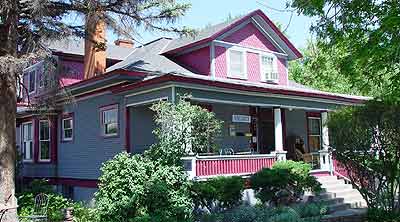 This last leg of the drive was dazzling. We flew through the night beneath a black, star-filled sky watching lightning throwing tantrums along the horizon. At last I was persuaded that it would be prudent to put the convertible roof up, but it never did rain and the lightning had all but ceased by the time we arrived in Alamosa. After fumbling around town a bit, we finally pulled up in front of the Cottonwood Inn B&B. After installing our bags into the cute carriage house to the rear of the main house we made our way into the kitchen for fresh chocolate chip cookies and lemonade. Quiet as two happy mice we nibbled away until sleep won over and called us off to bed. Cool, comfortable and exhausted, we quickly slipped into dreams of the adventures in store.
Morning arrived quietly. Since the carriage house has only the one room and no second story, there were no footsteps, opening and closing doors or showers running to awaken us. We awoke late, but not too late for a sumptuous breakfast in the dining room. Homemade waffles overflowing with fresh fruit, bacon, muffins and a collection of delicious preserves. Hot tea and orange juice. A full belly after a hearty breakfast followed by a pleasant chat with Deborah Donaldson, the owner, about what had drawn her to this sleepy town to buy and run a charming, historic inn. We received a tour of the surprisingly large inn, including the five rooms in the main house and the apartments in the house behind. We decided to forego a soak in the hot tub, and visits to some of the other cool attractions nearby. I promised my patient companion that we would visit Sand Dunes National Monument, the Cumbres & Toltec Scenic Railroad and either the Sand Dunes Swimming Pool or the Joyful Journey Hot Springs Spa on our next trip to the Southwest. She agreed, but reminded me that four years had accumulated since my last visit!
We packed up the car for our drive south to Santa Fe. A string a small towns (Antonito, Tres Piedras, etc.) before we made a little detour to Taos. We crossed the dramatic Rio Grande Gorge Bridge on our way into town and stopped to snap some photos with the usual packs of Winnebagos and motorcycles. It was pleasant to discover that Taos has not changed too much in four years. The outskirts, especially to the south, seem to be fertile ground for all of the strip development that typifies most urban commercial sprawl, but the town center is virtually unchanged. We ate a wonderful lunch at an old favorite, Eske's Brew Pub and Eatery. Good wholesome grub and homemade beer outside on the patio. One could do worse. Then a wander around the plaza and a drive past Taos Church before pointing our wild steed toward Santa Fe.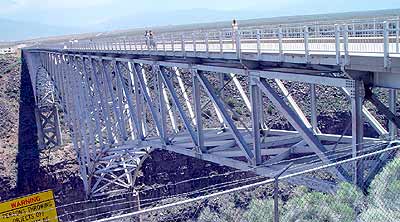 While cruising along the top of the world and then swooping down into the canyon etched into the desert by the Rio Grande, I remembered rafting these waters during their mad spring dash from the mountains like bulls racing through the streets of Pamplona. The three main stretches that are rafted are the Upper Gorge, which we had crossed over on our way into Taos, Taos Box, and the Racecourse, which ran along side Route 68 as we made our way toward Española.
My memory of Española's ubiquitous low rider hotrods was betrayed despite my efforts to find even a single example of the elaborately restored and meticulously maintained automobiles with miniature wheels and chrome-covered chain steering wheels. Not one! Disappointed, we continued on to Santa Fe. I was a little startled to see the enormous highway project in full swing between the Santa Fe Opera and Santa Fe. It seems that the old highway is being swallowed up by a mammoth multi-lane affair with big-city exit ramps and so on. A bit startling, but soon enough we arrived in Santa Fe and made our way to the Water Street Inn Bed & Breakfast where we had reserved the next two nights in the delightful Galisteo suite.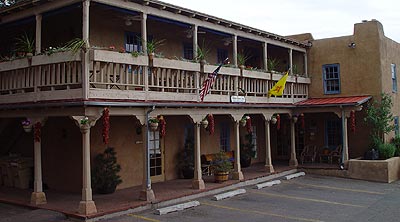 Across from the one-time Santa Fe Music Hall and tucked beside Vanessie's, one of my long time favorite Santa Fe watering holes, the Water Street Inn offers a charming home away from home. Our suite was entered from a private walkway shaded beneath an arbor covered with vines and a cool green canopy. A fountain gurgled pleasantly in the walkway, further defining the calm oasis that can be found so close to the Santa Fe plaza. We unpacked and made ourselves at home. The room was typically Southwestern with a kiva fireplace and a viga ceiling. The atmosphere was comfortable, charming and roomy. Our suite also had an enclosed porch and a small, enclosed garden with another fountain. We took quick showers and then headed off to Los Mayas, a casual family run Mexican and Southwestern restaurant around the corner from our B&B.
I had spoken to the owner, Fernando Trillo, several times in the prior weeks to organize a cocktail party for some of my Santa Fe friends. It was great fun catching up with a couple dozen Santa Feans, most of which I hadn't laid eyes on in four years. Plenty of nostalgia and the wonder in the back of my mind if I shouldn't be thinking about spending some time living out there again one day. And Fernando's grub is great and the service was friendly and consistently good all night. The night inevitably wrapped up later than planned so we decided to forgo a nightcap at Vanessie's where the piano bar was already swinging at capacity.
Okay, I'm going to get it off my chest right away. No sunlight! What I mean is that our suite (as well as most of the others that I saw) don't let any sunshine into the bedroom. Garden, flooded with sunlight. Enclosed porch, flooded with sunlight. Bedroom, dark! I remember this about the traditional adobe and adobe-style dwellings. They don't permit enough natural light to enter. Of course, I crave the light, and the first thing I did when I woke up was to head out into the garden to stare up into the blue sky. But aside from the absence of sunlight in the bedroom (a fact, ironically enough, which pleased my sleep craving companion who prefers to sleep in, without being awakened by sunlight streaming in on her,) the room was delightful. Quiet. Cool. The king bed was super comfortable. And falling asleep with piñon crackling in the fireplace was pretty close to heaven.
I was eager to run… no jog… no shuffle, so I filled up my Camelback with water and ice and headed up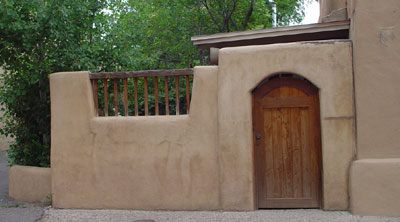 along the almost always dry Santa Fe River. I explored some old haunts like the Cowgirl Hall of Fame, Kokoman's Circus (out of business), the Hotel Saint Francis and the Artist Pub (formerly called On Water), and then made my way up Canyon Road. Pretty well exhausted and slightly scorched, I made it back to the Water Street Inn in time for breakfast on the second story deck next to the kitchen.
The grub was decent—granola, yoghurt, muffin, fruit, orange juice and tea—but it was the conversation with the server that was more memorable. She explained what had happened to all of the Española low riders. Some were still around, she said, but most had been replaced with newer, faster street rods made from Nissans and Hondas. Apparently the inspiration had come from a pair of movies that had swept the nation, resulting in fleets of high-pitched sport sedans. Sad to say good-bye to the old low riders.
After an enjoyable wander around the Plaza with stops in various galleries, we headed up to Santa Fe Preparatory School for an impromptu picnic with some of my former students. It was great to catch up and see them all grown up, perched at the edge of exciting futures, about to spread themselves around the globe to pursue exciting adventures of their own. They guided me on a tour of the newly renovated facilities including a new student center, cafeteria and athletic facilities. Cool to see kids so recently graduated still psyched to show off their school. Kudos, Santa Fe Prep! When they sent us on our way, we headed down to the Georgia O'Keeffe Museum which was constructed and opened during my tenure in Santa Fe.
The Georgia O'Keeffe Museum is one of those rare galleries where the architecture and design actually seem appropriate to the work exhibited within. Of course the museum was designed intentionally to showcase O'Keeffe's work, so it makes sense. The rooms have airy ceilings and virtually spartan décor. It is the artwork, primarily O'Keefe's but also Stieglitz's, that is the focus, the reason, the centerpiece. As in the past, I found that her work effortlessly and almost a bit eerily beckons me out into the intimate solitude of her simple subjects. There is something profoundly clarifying about her work. An invitation to minimalism. To stop and absorb the simple. The beautiful.
After a leisurely stroll around the old historic center, wandering in and out of galleries, feeling and breathing the desert air made fecund by the globs of rain that had fallen fast and hard while we were in the museum, we headed back to the Water Street Inn Bed & Breakfast. Then off to dinner at Ristra. Although this Southwestern-Mediterranean fusion restaurant is only a few blocks away, we decided to drive because the monsoon clouds still hung low and heavy, and we expected a decision to flaunt their ominous show of force would certainly incite a downpour.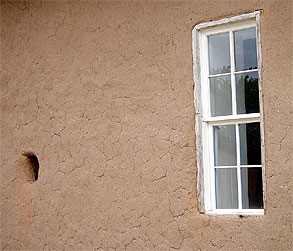 Dinner was superb. Well, almost. The space is pleasant, an old Victorian, stripped to the bare essential, uncluttered, whitewashed walls interrupted only by an occasional piece rich enough to attract but not distract your attention from the food which is what Ristra is all about. I enjoyed my main course immensely, a venison steak that was moist and plump, cooked to perfection, glazed in a sublime brown sauce with hints of tropical fruit. Mingled nicely with the Ridge red. My companion, seated beneath a handsome black, white and red chief's blanket that hung on the wall, was feeling the effects of the altitude, and was less gastronomically inclined than usual. Add to this a smattering of raisins, not mentioned on the menu, added to her main course, and she was less than 100% pleased, though I enjoyed finishing both of her dishes.
Then back to the inn so that she could sleep. With another fine piñon and juniper fire ablaze in the kiva fireplace, we found sleep quickly and easily.
Morning arrived, but the clouds still hung heavy over Santa Fe. We had breakfast in our suite and packed for our trip north. Felt like a premature departure, so we drove up Canyon Road after checking out and decided to wander through several galleries. Plenty that appealed to us, and even a couple of pieces that my now-less-altitude-affected companion took notes on and is considering as additions to her Manhattan apartment. And then, since we were still in Santa Fe and since the weather had begun to moisten us again, we made the easy decision to eat lunch at el Farol. El Farol is one of my (and everyone else's if history is any indication) favorite old school Santa Fe restaurants, and our lunch of tapas and posole was no disappointment. But the inevitable was upon us, so we trudged back to the car through the rain, and departed Santa Fe to make our way to Ojo Caliente.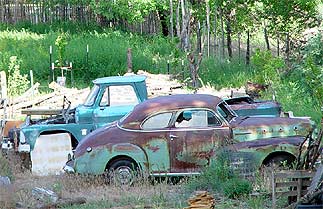 Once again past the opera, through Española, and then north on 285 toward Ojo Caliente. Just before arriving in the town, we passed the entrance to Rancho de San Juan, a Relais & Chateaux that MHD had considered five or six years ago while writing a screenplay. Instead she decided to work in Carmel Valley, at the Carmel Valley Ranch, but we decided to swing by for a quick look and to request an information packet should inspiration strike again in the future. Tucked into the rugged hills beneath an imposing butte, the modern adobe-style buildings are discrete and agreeable to the eye. We didn't linger long enough to visit rooms, but we heard on several occasions while in Ojo Caliente that the restaurant was world class. Perhaps some day we'll be able to test out the claims.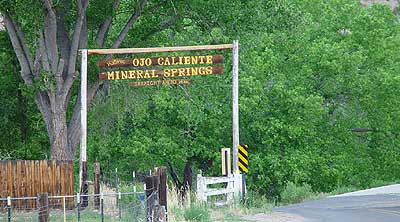 And then on to the tiny crossroads of Ojo Caliente. We had long planned on coming to this rustic hot mineral springs spa for some therapeutic R&R which was obviously indicated after our stressful wanderings! I had decided to try out a small inn, The Inn & Mercantile at Ojo along the road to the spa since it seemed to be more charming and in better repair. Situated on the right hand side of Hot Springs Road, catty-corner to the church, the Mercantile part of the equation, a small boutique selling everything from antiques and knickknacks to clothing, jewelry and sculpture, served as our check-in. We were directed to our room, one of several occupying a wing tucked behind a coyote fence that separated the courtyard and parking area from the road. The room, described later by our hostess as New Mexico Territorial style, was simple and clean, furnished with a king bed, an attractive antique wardrobe, a reading chair and a private bathroom. We dumped our bags, grabbed our swimming suits, set up our breakfast time and headed off to the spa.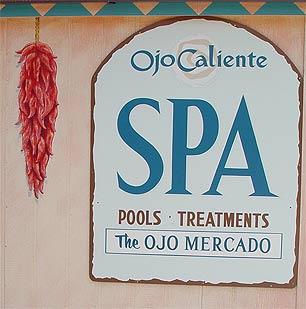 Some four plus years have elapsed since my last visit to Ojo Caliente, and I was surprised to discover the many changes that have taken place in my absence. The biggest change is ownership, from the family that had run the mineral springs forever, or near to forever, to a new, obviously more commercial minded operator. Ojo is going upscale. That seemed to be the bottom line based upon what I experienced and what people told me. First of all, there are a couple of new baths, Cliffside, tucked beneath the cliffs at the rear of the spa, and the Mud Pool, allegedly good for removing toxins. There are also plenty of renovations inside and outside that generally amount to tidying up and beautifying the spa. The best change was in the restaurant, but more on that later.
We started with a soak in the private tub for two, followed by a mineral wrap that, as always, turned into a nap for me. Then off to our massages. Long, deep, powerful and totally relaxing. Heaven. Once we had been kneaded and rolled and bent, we headed back out to the Arsenic, Iron and Soda Pools. We finished with a nice leisurely float in the Cliffside Pool. By dinner, we were quiescent and grinning ear to ear. After our showers we ambled on over to the Artesian Restaurant, still located in the original inn building, but with some interior design improvements and an improved menu and kitchen.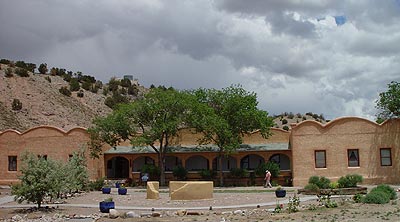 We ate a healthy, tasty meal and enjoyed pleasant service. But by this point we were already sliding in and out of a dream-state without much ability to discern between the real and the not so real. The afternoon had worked its magic, and we floated back to the inn and to our beds for a quiet, deep rest.
We awoke earlier than we had expected, premature for the 9:00 AM breakfast we had scheduled, but rather than trying to change our mealtime, the sunny day invited us outside for a walk. We grabbed our cameras and headed out. Our first stop was at the pair of churches across the street. One is clearly the older of the two, the historic Chapel of Santa Cruz. The second is newer and slightly larger. We wandered down to the river that flows alongside the spa, and then we turned back up Hot Springs Road and walked out to the intersection with the highway. Several businesses, mostly dining establishments are clustered around the intersection. We were pleased to see that someone had spread a bedroll on the floor of the defunct Gordo's café. Recycled; re-inhabited.
Upon returning to the inn for breakfast, I discovered a lady shoveling compost out of an old pickup truck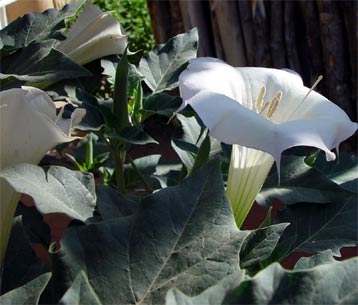 onto a flowerbed along the rear of the courtyard. I asked her about a flowering plant I had seen earlier. The plants seemed to grow heartily around the inn, and beautiful O'Keeffe-esque white blossoms bloomed out of the dense, dark green plants. The stocks and foliage were reminiscent of squash plants, but the blossoms were similar to callow lilies. Sure enough, she was familiar with the plant and offered me an introduction that was developed by the kind lady who prepared our breakfasts after offering me a book with an article written about Datura stramonium. Also called Jimson Weed, Thornapple, Devil's Apple, Devil's Trumpet, and a dozen other bizarre and wonderful names, Datura is apparently a common roadside plant in the Southwest, and consumption of the seeds induces all variety of deliriant effects upon the nervous system. (Bye, Mata, and Pimentel 1991: 32-34) Hallucinations; relaxation; fever reduction; curing insomnia, skin injuries, and a host of other ailments; pain killer; hallucinogen; sedative; and so on. This common weed with the pretty trumpet-shaped white blossoms is a wild pharmaceutical factory!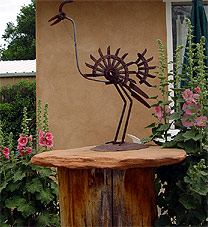 Breakfast was delicious, but it was the conversation that most sticks in my mind. It turned out that the woman shoveling compost was Claudia Wimett, the sculptress who runs the inn. We launched into a lengthy reflection about "the world today", meandering from local New Mexico issues to national and international issues, from irrigation ditch politics to oil politics, from real estate to education. She was a blast. Outspoken and opinionated and lots of fun. It was difficult to extract myself from the conversation when it was time to saddle up, especially once we were introduced to her parents, Zemmie and Tom Wimett, the couple who own and originally started the venture. Tom, an ex-physicist from Los Alamos launched into a conversation as colorful and engaging as his daughter had, keeping me happily distracted as my companion shopped her way through the boutique. A good strategy! And before leaving, I took one final look at Claudia's superb wood sculptures, promising myself a purchase once I have a place to exhibit her sensuous work.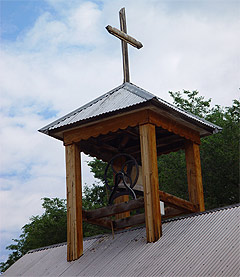 At last we departed, delayed but thrilled to have passed this way and met such agreeable folks. As we drove away, the clouds were once again scudding past distant mountain peaks and threatening a return to the monsoon conditions that we had experienced the morning prior. On our winding way to Chaco Canyon, we were several times compelled to pull over and raise the Mustang's top in order to stay dry. But once these deluges passed, pleasant weather resumed and we went on our rambling way.
We arrived at Chaco Culture National Historical Park just short of sunset, in time to reserve the last tent campsite in the park campground. A perfect location, set well back from the parking area, we assembled our tent at the base of a red rock canyon. Although the skies were clear, we decided to put the rain top on just to be safe. (And a good thing too since the skies opened up shortly after we nodded off for the night.) We ate a simple dinner at our campsite then headed off for a sunset stroll. There is a cool ruin right in the campsite, but mostly it's the virtually barren countryside that makes the experience breathtaking. Add the fact that sun and moon were in their prime since we were only a day or two short of the Summer Solstice. Life is good… We tucked in after dark, and the desert calm and the cool air conspired to send us quickly off to sleep.
A dog's bark in the middle of the night awoke me. I wandered out into the night to relieve myself and was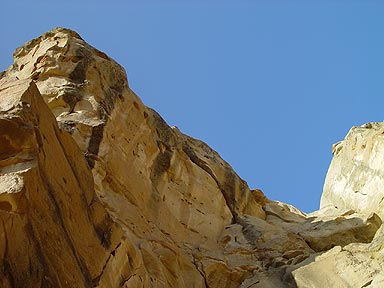 greeted by a magnificent starry dome. I sat outside the tent for a while in the moonlight which bathed the red rock cliff beside the tent. A calm, millions of years old, sage as the moon in the inky sky and stealthy as the wind, had stolen into the canyon and settled between the walls of earthy stone. It was at once intoxicating and sobering, a feeling of expansiveness and infinitude. At last I slipped out of me shoes, unzipped the tent and crawled back into my sleeping bag.
We awoke with the sunrise, the interior of the tent already hot. Breakfasted on bananas and granola bars, packed up the tent, and headed off to explore Pueblo Bonito. These ruins, sprawling out onto the valley floor from the base of the canyon wall, are perhaps the best and most famous example of what is generally referred to as a Great House, large, intentionally planned (as opposed to the half hazard planning that typifies other ruins), multi-story complexes with extensive grain/food storage facilities and kivas (circular underground ceremonial rooms). Despite the fact that several enormous boulders which sheared off of the cliff behind Pueblo Bonito in 1941 have crushed a rear portion of the ruin, the enormity and the complexity of this development is astounding.
Upon arrival at the site, we searched around for the ranger-lead tour that we were scheduled for, but didn't locate the group until much later. So we wandered off along with assistance from the printed guide we had received at the ranger station. We shot more photographs than necessary, perhaps, but it was impossible to resist the temptation to turn the lens on each new detail, each new view. Truly spectacular.
We found ourselves wondering the same sorts of things that have mystified archeologists and anthropologists for years. What exactly were the functions of this and other Great Houses? Why were they built in this area? What explains the extensive number of storage facilities and the rather limited number of residential facilities? What happened to the inhabitants of these settlements?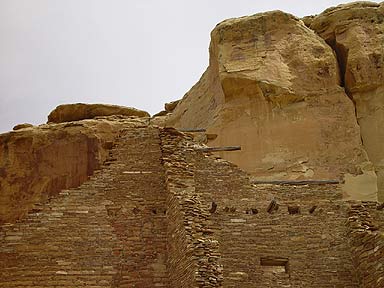 It seems that most conventional wisdom points toward the possibility that these Great Houses were part of a system of migratory and ceremonial relations between various different native peoples. Indeed this area is present in the oral histories of the Hopi and Pueblo peoples, leading scholars to suspect that it might have been connected to some sort of diplomatic association of unique tribal groups. Fascinating. It seduces the imagination.
Before leaving Chaco, we also hiked through Una Vida, another ruin where we were able to see and photograph some interesting petroglyphs. I'm always on the lookout for rock art, and it was exciting to be able to see these. Such a tangible grasp across time, as if, hand in hand, we could make the sort of intimate connection that we make in a letter, over the telephone or Internet. What will people think hundreds, indeed thousands of years from now when they come across the souvenirs of our quotidian happenings? Our shopping lists scrawled on cocktail napkins, an email printed and forgotten, graffiti on our city walls, and carvings in a high school lavatory?
By midday it was time to push onward, northwest to Farmington for lunch in a dingy and empty (even the single employee left after serving us) pizza restaurant. After eating, we headed west to Shiprock, our last outpost in New Mexico before zipping through the northeast corner of Arizona and entering Utah. But there is much to distract the focused mind in this part of the world, so my somewhat less focused mind was quickly overwhelmed.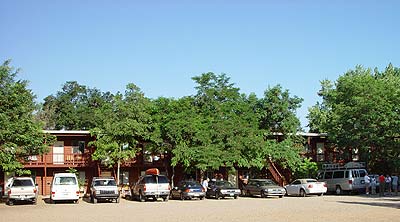 We had spent the better part of the afternoon observing the gas and oil wells, pump stations, carbon dioxide pipe receptacles, and the hundreds of petroleum company pickup trucks bombing along the highways at breakneck speed, presumably servicing this great network of fuel extraction. And the dizzying expanses of openness, the dry scorched land, the whimsical rock formations. Add to this intoxicating movie and amazingly colorful nearing toward sunset, and you might possibly grasp how we turned almost due south after Shiprock and headed almost an hour south before realizing our error. We laughed at ourselves, especially since we'd been enjoying the lowering of the sun… in the west… on our right!
Bearings recovered, we retraced our way to Shiprock, beat a hasty path through Arizona and then entered Utah within stone skipping distance of the Four Corners. The setting sun had reached the horizon, and we savored a splendid sunset as we rolled into Bluff, Utah. En route we had decided upon a lodging in Bluff and had called and reserved the very last room at Recapture Lodge. Although our guidebook only mentioned that it was a comfortable and friendly AAA motel, we didn't have many choices and it seemed to offer the possibility of charm. We were not disappointed. We were welcomed by the owner who was as amicable as could be. We checked into our basic but commodious digs and took a long-overdue shower before heading off to dinner at the Cottonwood Steakhouse.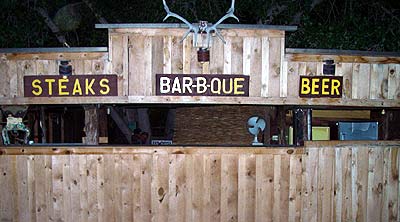 We had driven past this wild west motif bar-b-q restaurant on our way into town, and my mouth had been watering ever since. Of course, it was a little selfish since MHD is a vegetarian, but the proprietor at Recapture Lodge had assured us that there were a couple of fish choices. And besides, it was late and we didn't have many options. Unfortunately, once we had tipped up our ice cold beers and settled into the rustic setting, our waitress informed us that the fish was gone. A salad was arranged for MHD and a double rack of ribs for me. Our desserts were some sort of ice cream and brownie sundaes and we drifted back to our beds with happy hearts and heavy bellies.
I love Bluff, Utah! When I lived in Santa Fe, a dear friend repeatedly told me that I should venture up to Bluff. She knew the town inside and out and seemed to regard it as a sort of spiritual second or third home. I never went… till now. And she was right! There is something singularly captivating about this little oasis of some three hundred people tucked along a bend of the San Juan River. It may be the old, wild west feel of the place. Or the three hundred foot tall red rock bluffs along the opposite side of the river. Or Fourteen Window Ruins tucked into a stadium-sized cliff in these same bluffs. Or the majestic red rock spires that rise skyward behind the Twin Rocks Trading Post. Or the extensive petroglyphs near the campsites on the way into town. Or the friendly, unpretentious citizens. Or the sunlight. Or the moonlight. Or…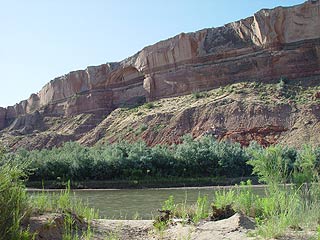 I awoke early-ish and headed off for a walk along a sandy road through the trees. The road, evidently used primarily by horses and llamas to judge by the hoof prints in the soft, sandy soil, led away from the motel parking lot and toward the bluffs. I had been told that I need only walk toward the bluffs to find the San Juan River. And soon enough I was there. I was tempted to take a swim despite the muddy current, but figured my companion would be doubly ticked if I not only went for an adventurous walk while she slept but also went for a dip. So headed on back, received my lashings for failing to wake her for the walk, and then headed down to breakfast.
We ate in front of a large window and watched hummingbirds feeding at a feeder hanging outside while Jim Hook, the motel owner, gave us directions for a trek out to a Navajo ruin called Fourteen Window Ruin. We parked at a dead end road just outside of Bluff and made our way across a wobbly Indiana Jones suspended bridge that spanned the San Juan River. The dusty but relatively unchallenging hike into the bluffs was discarded in favor of a cross country, bush-whacking expedition through the scrub growth that fellows explorers suggested would make a far superior approach. They neglected to mention that the land we would be crossing was private, that we would get thoroughly scratched clawing our way through the dry bush, and that we would have to climb over a barbwire fence at the base of the bluff. Looking like we had just crossed the Sahara, we finally arrived, embarrassed to have trespassed but awed by the sight of the ruins tucked along a single level of stone high up inside a cliff carved out of the colossal bluff.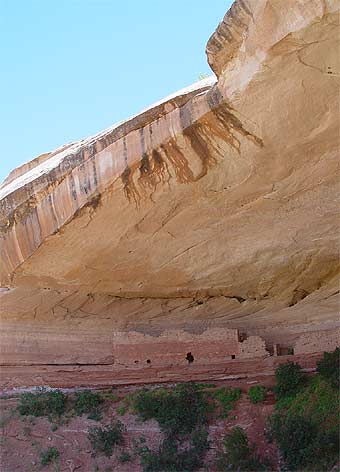 We scrambled up the slope and explored the site, wondering whether it had primarily served as a home overlooking the fields, river and valley or if it had offered dry and secure storage for the grain and other agricultural products grown in the Navajo farm that still stretched along the valley floor between the bluff and the river. We sat and absorbed the view, felt the breeze blowing desert air into the shaded cliff dwellings, and tried to take some good descriptive photographs. But as usual, there was no wide-angle lens quite wide enough to capture this view. You'll just have to visit yourself.
We returned to the car by the correct, marked path and, though it was perhaps slightly longer, we made the trip in good time despite a somewhat unfriendly looking bull which kept his red eyes on us as we hiked past. Then we headed off to the Twin Rocks Trading Post for lunch and gifts. There may be no more spectacular setting for a café and gift shop anywhere in the world. The building hunkers beneath natural red stone spires which climb precariously up into the blue dome, menacing…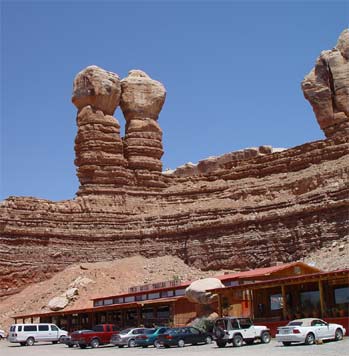 We had a pleasant meal on the porch, seated beside a large family visiting from France. The uncanny bridge between two worlds prompted me to exchange a few pleasantries and to mention my recent return to the US after four years in their nation's capitol. Inside the restaurant a pair of online computers were available, so I checked my email and made a website update before heading off to the adjoining trading post for several obligatory purchases. It's actually a neat spot. A fair cry better than so many like-named tourist traps that dot the Southwest. I actually met the owner who speaks Navajo despite the fact that he's Anglo, who has been trading with regional Native American artists and artisans for several decades. His is an upscale boutique selling everything from rugs and blankets to kachinas, pots, baskets and jewelry. He's an informed and cordial dealer. I enjoyed my visit. And, of course, we pulled out with several news bags of loot to stuff into our already brimming ride, including a pair of Sioux talismans for MHD's nephews.
If it hadn't been for the northward pull of Arches and Moab combined with the scarce days remaining in our trip, I would have happily remained in Bluff for at least another day. The pace, the agreeable people and the total lack of pretence makes for a damned comfortable fit. But MHD kept us focused and before I could come up with an excuse for lingering, she had us loaded up and rolling. Her one concession was a pit stop at Sand Island Petroglyphs, an impressive rock art site at the far end of town before doubling back and sticking the pedal to the metal.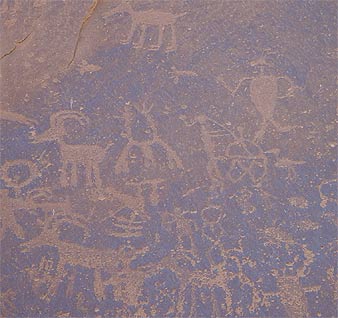 We pulled up alongside a cliff that paralleled the San Juan river and fumbled along the short rocky trail, eyes glued to the ancient graffiti. Chipped into the dark chocolate desert varnish which coated much of the smooth reddish stone were hundreds of wonderful images. Rams and serpents and hunting men. While I was wandering along and snapping photos, a red pickup pulled up to MHD who had already returned to the car as a sort of subliminal motivator to speed me up, and an elderly Indian couple peddling homemade bracelets launched into their smiling dog and pony show. At last we headed north with a pair of new bracelets adorning MHD's slender wrist and a glowing orb making its may toward the western horizon.
An exceptional drive. Not just the setting sun, but the stone formations erupting out of the dry topography, transported us into quiet and reflective moods. And then, Moab.
Out of nowhere, the ugliest city around is plunked in this otherworldly geography. A bit of a buzz-kill, but we were on a mission and forgot to lament civilization's blight on an otherwise magnificent world. We pulled into Western River Expeditions where upbeat and super-helpful Jeremy not only booked us on a river rafting trip but also drew us a map so we could find a local camping and hiking supply store to stock up on provisions. GearHeads Outdoor Store would have been a fun "candy store" within which to squander several hours on a rainy day, trying on, experimenting with and ultimately acquiring an impressive collection of outdoor equipment, but rain's rare in Moab, so we got down to business right away.
First, a refill of white gas for our cook stove, an extra mess kit, some energy bars, some biodegradable soap and whatever else our helpful GearHeads aficionado could talk us into. Before leaving he gave us a map to the campground at Arches National Park—our preferred lodging for the night—and a backup campsite on the top of Slickrock. He recommended Center Café in response to MHD's tricky catalogue of dinner whims and preferences and sent us on our way with our routes highlighted on the map. Of course, he did suggest that it would be prudent to head on out to Arches before dinner to secure a campsite, but we opted to risk scrambling for a campsite in the middle of the night in lieu of enjoying a good dinner.
Center Café is a rather swishy restaurant for this sporty, more-than-happy-to-rough-it town. Chief among MHD's instructions to our GearHeads attendant had been that he recommend a healthy restaurant. Someplace that would have ample vegetarian offerings for my selfless companion who'd made such a sacrifice the previous night so that I could bury myself in bar-b-q ribs. We would soon discover that Center Café is not only a healthy restaurant with impressive vegetarian dishes, it is also the best restaurant in town. Or certainly one of the best. To be fair, we didn't have dinner at any other restaurants in town, but our charming server informed us in no uncertain terms that we wouldn't find a better meal, better atmosphere or a funnier waitress anywhere else in Moab. We were inclined to believe her.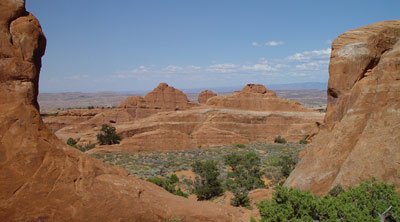 We ate and drank like king and queen and lingered long after our meal was finished for delightful conversation with the servers since we were the last ones there. The truth be told, I kept up the chatter while MHD (still a bit new to camping and not 100% comfortable with the notion of going to bed without performing all of her pre-bed rituals) used the Center Café restroom to clean and brush up for bed. The wait staff was amused and charming. A high recommendation under the circumstances, to be sure.
Inevitably our arrival at Arches National Park was met with a vigorous nod from the ranger at the entrance booth. "Nope. Full up for the night." So we headed back to, through and past Moab. We wound our way up Sand Flats Road to the Slickrock campsite where fortune smiled upon us. We set up our tent in the triangle of light our headlights were burning into the dark night and fell asleep quickly.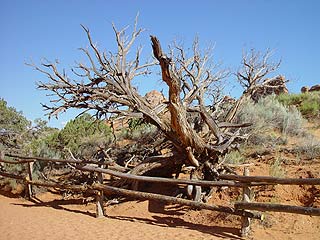 Morning welcomed us to the lifestyles of rock crawlers, a breed of human fascinated with driving over rock without dieing or destroying the means of locomotion. There seem to be two very different strains of the breed, those who have tuned their muscles and metabolisms to complement and mesh seamlessly with mechanically sophisticated mountain bikes, and those who have tuned and adapted their mechanically sophisticated 4x4's to the neglect of their muscles and metabolisms. It was this latter strain that woke us early with engines revving and stereos blasting. We packed up and headed into Moab.
After breakfasting on killer burritos and made-on-the-spot fruit smoothies, we hit the visitor center for a water orientation. Oriented, we left town on Highway 191, but before crossing the Colorado River on our way out to Arches National Park, we turned right on Scenic Byway 128 and immediately pulled off the road to refill our drinking water stores at a natural spring. The water was cold, clean and refreshing.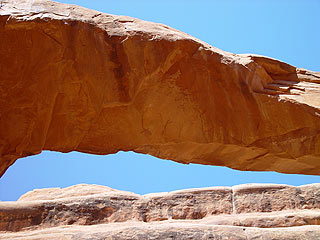 Then we continued along 128, following the Colorado River into rugged rocky country for several miles until we found the perfect turn off to swim and bath. The bracing water flowed fast and muddy, but we managed to scrub up with the biodegradable soap and rinse off. Actually I was in and out as quickly as possible, eager to let the baking desert heat chase away the icy chill that had immediately dulled my mental functions to the minimal "I'm freezing… need heat" level. MHD, on the other hand, washed leisurely, splashed about and even swam against the current for fun. Convinced she was mad, I dressed and took a couple of pictures to just to prove I wasn't imagining things.
We headed off to Arches where a ranger at the park entrance informed us that we could buy a park pass to hike around the arches, but there were no remaining vacancies in the campground. On our way to the trailhead, we decided to pull in and check anyway. As luck would have it, MHD charmed the campground attendant into securing for us what was quite likely the best campsite of all. Tucked into the sandy landscape amidst juniper and scrub we set up our tent with a $1,000,000 view of Utah's spectacular Canyonlands.
Invigorated by our chilly swim and inspired by our good luck, we tightened our hiking boots, strapped on our cameras and as much water as we could comfortably haul, and set out to explore the stone arches. This is a magical place. Neither of us had been here before, though we ostensibly had been prepared for the natural splendor by reading Edward Abbey's Desert Solitaire in the evenings before falling asleep.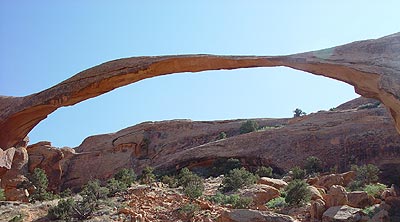 I won't try to capture in words what it is like to wander through this otherworldly environment. An attempt would appear hyperbolic and contrived. Even the exciting view of Delicate Arch in the distance had not initiated or anticipated the shift in scope and sensibility that we experienced as we wound our way through Devils Garden. I can't begin to communicate what it's like to stand under Landscape Arch wondering how much longer this graceful band of rock will resist gravity's siren. I can't convey the Zen-like calm and solitude of Navajo Arch or capture the spiritual and emotional clarity of a quasi-religious variety that swells within you while sitting in Partition Arch looking out over the vast, parched, wrinkled desert. One has to visit to know these sorts of places.
In the cool evening, we dined at our campsite, witnessing a singularly magnificent sunset while three van-fulls of college geology students set up camp and ate dinner on the other side of the ridge. We were disheartened to think that some four dozen raucous kids would compromise this sublime time and place. Our worries were unnecessary. They were quiet and respectful. We forgot they were even there despite the fact that we slept with the tent roof open, only a transparent screen separating us from the majestic star-filled sky.
We awoke to a world aflame in crimson, yellow, pink and orange; the sky and landscape painted in pigments more often associated with pomegranates, peaches, lipsticks and sport cars.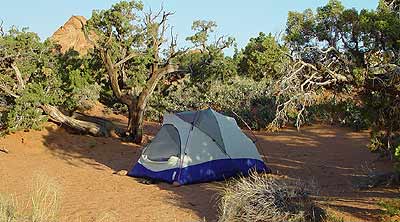 "Oh that the desert were my dwelling place," wrote Lord Byron. This audacious dawn will reside forever indelibly etched into my simple memory.
After breakfast we decamped quickly and headed off to Western River Expeditions to rendezvous with our guides and the other rafters. We all piled into a bus and rode up Scenic Byway 128, past the place we had swum and bathed the previous day which was roughly halfway to the bend in the Colorado River where we had our pre-river-run-instructional-briefing and "put in" as the rafting guides like to say.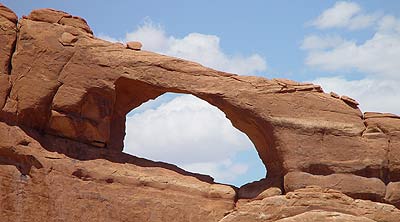 Although the scenery was spellbinding, the waters were running at pretty low volume. There was greater challenge in paddling the body-laden inflatable raft downstream than in any stretch of rapids we shot. But spirits were high, and the half dozen or so rafts quickly resorted to full-scale raft-to-raft water fights. Our raft's crew, comprising two near retirement school librarians from South Dakota, two retired buddies from New York riding their motorcycles around America, a young and newly wed couple from Texas, our charming and unselfconsciously beautiful guide, MHD and me, will not go down in history for our spectacular naval victories, but we had a delightfully boisterous and wet time of it.
By the time we pulled up on a sandy bend for a picnic lunch, we were famished. The last leg of our trip offered few rapids to shoot but plenty of leisurely drifting and a final chance to dunk the guides and splash the other rafters. Wet, sunburned and exhausted, we packed ourselves back into our trusty Mustang and headed off for Glenwood Springs, Colorado.
And we arrived in the late afternoon, early evening only to discover that we'd have been better off passing Glenwood Springs by. We had been wooed by a misleadingly enticing description of the hot springs and Rocky Mountain village. We visited but skipped the hot springs altogether. Enticing to families with children and senior citizens inclined to swim slow, sloppy laps in water warm enough to be a gargantuan bathtub, the facilities were aseptic and crawling with far too many bodies. We veered back up from the river and explored the town which, though tidy and dramatically situated at river's edge, mid-mountains, lacked notable charm and character.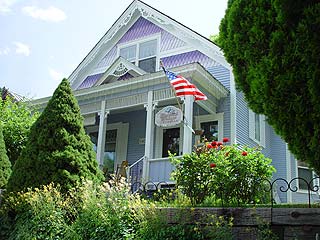 Fortunately, not all was a bust, however. Our lodging and our dining experience were memorable. We stayed at the Glenwood Springs Victorian Bed & Breakfast, a small turn-of-the-century restored home in a quiet residential quarter near downtown. Our room was snug but quaint. It reminded me of staying with my great aunts' as a child. Doilies on the dresser, a worn but handsome quilt on the bed and elegant lamps and lampshades. Although we were not the only guests, we did have our own bathroom which was pleasant for me and essential for MHD.
Dinner too helped to buoy our experience of Glenwood Springs. We were unanimously referred to Rendez-vous, a French bistro with great food, an almost hip atmosphere and one very cool waitress. It's unlikely enough to have an authentic française in the middle of rural Colorado, but even more refreshing was her upbeat and engaging manner. Isabelle knew cuisine, wine and food service, yes, but even more importantly, she knew people. It was a slow night with only three or four tables eating simultaneously, but she made everybody's night. Even an ultra-cool foursome from Tokion Magazine doing a "race across America" promo tour for Toyota in a bizarre Scion XB was smitten with Isabelle.
The next morning the B&B owner had drawn us a map for a pleasant three-mile run through the parks that line the river. We scarcely saw a soul, and it felt invigorating to jog along the rapid water breathing the clean mountain air in the morning. We enjoyed a hearty and plentiful breakfast before packing up and packing out. But not soon enough. I regret to admit, it is this final fifteen minutes in Glenwood Springs that most markedly tarnished my experience.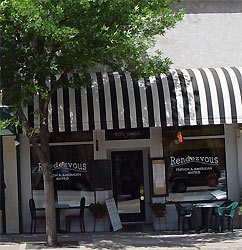 While parallel parking so that MHD could make a quick shopping stop, I managed to excite the ire of a Winnebago driver behind me. He pulled in front of the empty space and refused to pull around me. So I waited. Then I turned and signaled to him that I was trying to park in the empty space, lest he hadn't noticed my turn signal. He shook his head no and gave me the finger. I waited some more, wondering what exactly was the best way to proceed. Then I got out of the car and approached the Winnebago. The driver, a man in his late fifties or early sixties and slovenly, rolled down his window.
"Sir," I began, "I'm trying to pull into that parking spot."
"Don't care," he grumbled. "Ain't lettin' ya in."
His equally slovenly wife sat resolutely beside her man, looking forward.
"Why not?"
"Cuz ya cut me off."
"Sir?"
"Ya cut in frontame, cut me off. I ain't moving nowheres 'ceptin forward."
It occurred to me that he had obviously failed to see my blinker, had accidentally pulled forward when he should have stopped to let me pull in, and was now annoyed because his colossal vehicle was stuck, unable to pull out into traffic, and unable to back up. Okay, so I was giving him the benefit of the doubt, skipping the equally likely possibility that he was simply an ornery bully who didn't want to bother waiting for me to park and had pulled forward to preempt any attempt I might want to make.
"I'll tell you what."
"Ya don't needa tell me nothin'. Jes git in yer car 'n go," he growled. He had been chewing gum the entire time, his upper dentures pulling free of his gums about every third or fourth chew.
"I'm going to pull forward enough for you to get past. Then I'll wait for you to pull around so I can park, or I'll just double park and wait. It's up to you."
He had interrupted me and talked through my last sentence, offering up a colorful string of invective better omitted here. But as we both finished, both angry, his wife finally turned to the man and berated him for "doin' it again" and ordered him to "Shut the %$#@ up and pull around."
I walked back to my car as they lit into one another. I pulled forward. Eventually there was a break in traffic and they pulled their behemoth around and on down the street. No sooner did I begin to back up to park, but a micro SUV darted into the spot.
I was still double parked and fuming when MHD returned.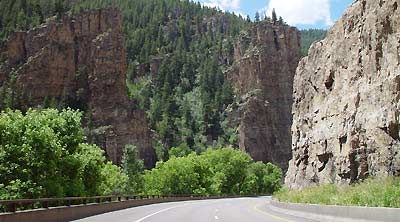 This then is the memory I associate with Glenwood Springs. Unfairly, I admit. And another as well, also unfairly. We lit out for Pine, Colorado where we were to have lunch with friends of MHD's originally from New Jersey. I am convinced that it was the residual frustration percolating within me that was responsible for the next debacle.
To be frank, I drive rather quickly. But, as a rule, I do not exceed the speed of traffic. As we wove our way through the Rockies, passing many of the pedigreed American ski resorts like Arapahoe Basin, Beaver Creek and Vale, our Mustang was living up to her reputation, matching velocity with the other overachievers in the highway. About every twenty five or thirty miles we hit a construction zone, and speed stepped down in deference to the ominous threats of doubled fines.
But once it didn't. Or not quickly enough, according to dear Officer Jollycopper. I will swear on a stack of Ondaatje and Garcia Marquez novels that I was only about five over the reduced 45 mph speed limit when he picked me up. I saw him pull out of the U-turn, and then I, Officer Jollycopper and everyone else slowed to 45 and then 35 when the next sign came. My heart had raced when he pulled in behind me. No lights. No siren. We all drove on through the construction site. MHD pulled out her video camera and began panning around to film Officer Jollycopper, perhaps because she found the snowcapped peaks in the background to be rather dramatic. Perhaps because she thought it was rather droll that I had nearly soiled myself when he pulled in behind me.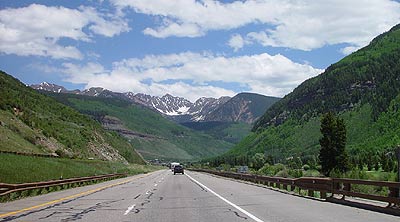 She filmed away and we cruised another mile or so beyond the construction site. I'd stopped sweating, and had even begun to regain my composure when his lights began to flash. What?!?! We had a rather one-sided conversation, he instructing me in humility, I accepting that he had no interest in my explanation that I was slightly over the speed limit, but it was a 45 mph zone, not the subsequent 35 mph zone. My words fell on deaf ears, and my suggestions that we return to the u-turn that he had pulled out of to verify the marked speed nearly landed me an increased fine. In addition to a $450 penalty, I earned—he helped me see that "earned" was the right way of looking at it—a whopping six points on my license. So not only had the fine been doubled, so had the points for good measure.
The balance of our drive to Pine was markedly slower. We missed lunch. But we did arrive in time for a late afternoon tour of River's Run at Crystal Lake, the impressive ranch developed and run by David Jones. Cut in half by a scenic fly-fishing stream this property is rugged Rocky Mountain ranching at its most idyllic. Initially run as a resort bed and breakfast, the Jones family (with whom MHD had grown up in New Jersey) is currently redeveloping this magnificent destination as a luxury ranch community and fly-fishing club. During the summer, the resort is a popular venue for weddings and receptions, and our tour of the expansive grounds was accompanied by comical stories of wedding mishaps and natural disasters. I suspect the line between fact and fiction may have been blurred occasionally, but for the resort owner's gregarious father it was the story and the entertainment value that clearly mattered most.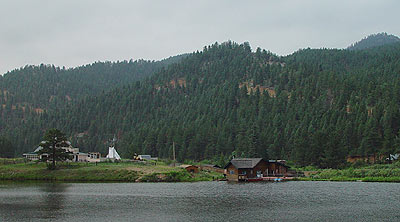 After a lavish dinner prepared by resort chef, Steve Jones, and his gastronomically gifted mother, we fell into bed to slumber in a way that is only possible after a super meal, plenty of good wine, a whopper of a speeding ticket, a senseless argument with a camper captain, and high altitude with a scarcity of oxygen. Let us all have this experience once.
We awoke early for a jog up the river into a protected parkland. We didn't see any animals except for the occasional trout rising for a hatching fly, but we have it on good word that these woods are full of wildlife including bears and mountain lions. Fortunately they steered clear of us, no doubt alerted of our coming by our loud gasping and panting.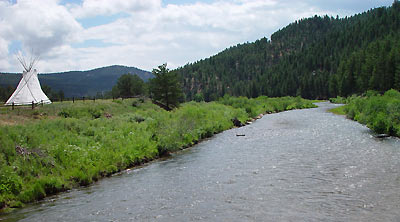 After an excessive breakfast, we set out for a tour of the spectacular building lots that River's Run has recently brought to market. These second home lots, including a limited number of 8 to 15 acre fish-in/fish-out parcels, offer seclusion, a remote natural habitat and spectacular views, and yet they are within an hour of metro Denver. I'm not in a position to ante up for my very own chunk of paradise, but I certainly do look forward to visiting this delightful family again soon.
After packing our car for the last time, we headed off to the inevitable. About forty five minutes later we had returned the police magnet to Hertz, and boarded the shuttle to the check-in terminal. All too soon we were tucked into a jet bound for New York City. A week and a half back in the American Southwest had expired, but it wasn't gone. Far from it. A love affair had been rekindled, and a wonder began to germinate, a wonder if it might not be time to return soon to this land of blue sky, stark beauty, rugged character, vast space and, well… and naked living.
Did you miss the "naked living"?