Ducking Through Scandinavia
My friend Amelie and I were discussing our respective travel-bugs and our never-ending competition to visit at least one new country each year. When she suggested that we both travel somewhere, anywhere, together,
I whimsically accepted the offer. The conversation went something like this...
"Hey, wanna go to Australia?"
"Yeah!"
[Several months pass]
"Ummmm, Australia is too far and too expensive to fly to. How about Iceland?"
"Yeah!"
[A few more weeks go by]
"Why don't we add Denmark too?"
"Yeah!"
And so, taking advantage of Iceland Air's offer to fly to a European city and – for no extra charge – to stop over in Iceland for three days, we took off from New York and traveled to the northern-most capital in the world and points east.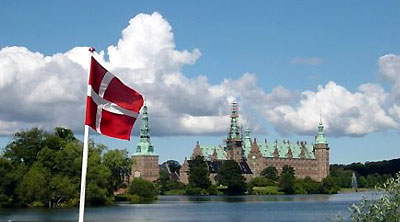 And so, taking advantage of Iceland Air's offer to fly to a European city and – for no extra charge – to stop over in Iceland for three days, we took off from New York and traveled to the northern-most capital in the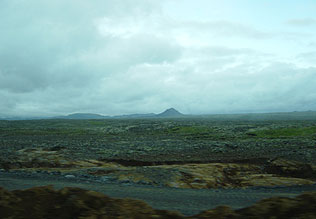 world and points east.
Day One: The Land of Puffins, Prices, and Popp Rokk
Having flown all night from sweltering New York, we arrived in nippy Reykjavik, Iceland, a.k.a. Break-ya-bank, Priceland. We staggered our way through customs, hit the ATM (Fun Fact: Iceland is one of the most expensive countries in the world, second only to Japan!), and threw our sleep-deprived bodies into the FlyBus shuttle from the Keflavik airport to the capital. We got our first views of the Icelandic landscape which was decidedly lunar with dark lava fields covered lightly in moss. After being dropped off in the heart of Old Reykjavik, we checked into the Salvation Army Guesthouse which was much more pleasant than we expected. Our new home was in a perfect location, just north of Tjörn lake (teeming with waterfowl and children) and west of the street Bankastræti (teeming with shops, cafés, and tourist information centers that employed chilly-demeanored personnel). We dropped off our luggage in our garret-room which was so tiny that you couldn't swing a puffin in there. I could stretch my arm and leg and touch the opposite walls. Trust me; I tried it.
Attempting to follow the walking tour suggested by a guidebook, we ended up walking clear across Old Town and reached the bus station at the other end of town without finding any open cafés in which to have our breakfast/dinner. Neither locals nor tourists were to be seen on that early Saturday morning. I would not have been surprised to see tumbleweed-like snowballs drifting down the deserted street and to hear someone whistling the theme song to The Good, The Bad, and The Ugly. Doubling back, we found Kaffitár, the #2 champions in the 2003 World Barista Competition. We were surprised at how good the bagels were in Reykjavik, and Kaffitár became our favorite coffee/bagel hangout. (Fun Fact #2: USD$8 for a bagel with cheese and a swiss mocha!) We watched some ice-blond children feeding ducks and gulls at Tjörn lake until the chilliness and bone-tiredness hit us, and we returned to our mini-room for naps.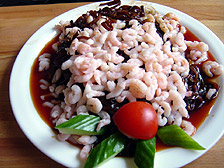 Refreshed, we strolled around the town until we reached the end of the main street again which did not take very long. Apparently, the exchange rate is one American step to five Icelandic steps. We leaped and bounded back up the street and decided to try Icelandic Thai food for lunch at Nudlehaus. The black noodles were topped with what we originally suspected were raw shrimp and then figured were canned shrimp but at any rate were gross. Score negative one for Icelandic cuisine. We strolled around Austurvöllur park which had an amazing exhibit of Yann Arthus-Bertrand's "Earth from Above" photographs. Afterwards, we parked ourselves at Café Paris for a three-hour coffee break and before we knew it, it was 9 p.m. and the sun had disappeared! It had been completely obscured by clouds all day, but by night, it was really "night" - no midnight sun, no insanity, nothing. We later learned that only in July are there a couple hours of darkness in southern Iceland. Since it was dark and surprisingly quiet for a Saturday night, we decided to pack it in.
Day Two: Bláa Lónið
After a good night's sleep on comfortable beds with thick blankets, we stacked up our beds, packed our few belongings, and said goodbye to the weeping baby portrait hung on the candy-colored walls of our single room to shift over to a double room. Kaffitár did not open until 10 a.m., so we occupied ourselves by walking along the main street, loitering by the harbor, and counting ducks. Over breakfast, we leafed through the local paper where several newsworthy ducks made the front page (seven ducks on the front page and another five geese on the second page). Bellies and minds fed, we returned to our spacious double room to get ready for our excursion to Iceland's famous Bláa Lónið, or the Blue Lagoon. The geothermal spa boasts healing power water that is warm (38°C/100°F year-round), silky (from the mineral salts, silica, and blue-green algae), and dreamy (clouds of vapor surround the pool and the lava rocks beyond).
The bus picked us up at the Guesthouse and we arrived at the Blue Lagoon about 40 minutes later. We ran from the bus through the chilly mist to face our biggest fear: the communal shower. Icelandic protocol requires all patrons to shower sans swimsuits before entering the pool. All accounts thus far indicated that we would have to join throngs of naked swimmers jostling for position under the shower sprays. One helpful individual suggested we "just suck it up." Our fears were allayed when we entered the locker room with electronic-key bracelets and saw that there was a bathroom in which to change clothes and several cubicles with shower curtains. Whew! The indoor pool led to the outdoor pool where several areas were available to explore: the silica mud dispenser stations where you can glop Iceland's #1 skin-care product on your face to draw out impurities, the intense waterfall that pounds your shoulders, and the sauna that can lull you to sleep (and/or suffocation) in an instant. Definitely an experience to be had.
Back in Reykjavik, we walked along the coastline and clambered over Sólfar, a metal sculpture of a Viking ship. We treated ourselves to a meal at the relatively inexpensive Kebob Husio of fried fish and kebabs, and then warmed up with some coffee at Svarta Kaffið. We chatted amiably for hours, sipping on our mochas and observing the clientele, when suddenly, in mid-conversation, I gasped "We don't have any money left!" We had spent our last Icelandic kroners on our trip to the Blue Lagoon having received false information that the bus took credit cards. Luckily, the café took plastic so we were saved the embarrassment of not having enough money to pay for two coffees. On our way back home, we wandered around Yann's exhibit again. (Fun Fact #3: Touring over 20 countries for more than 30 million visitors, the photography display is the world's most seen exhibition ever!) A round of cards, a review of the next day's itinerary, and a sound sleep all around.
Day Three: Gullfoss and Geysir
Kaffitár was hopping the next morning, so we ordered our breakfast to go and went to enjoy it in a patch of rare sunshine on a bench at Tjörn lake. This time, not only did we count the ducks, we fed some as well. One geezer duck came right up to us to be fed, and I think I may have contracted duckpox when I hand-fed a half-blind duck and he mistook my fingertip for a piece of the bagel. We made our daily trek up the main street to book a six-hour tour with Iceland Excursions that day and returned for a power-nap.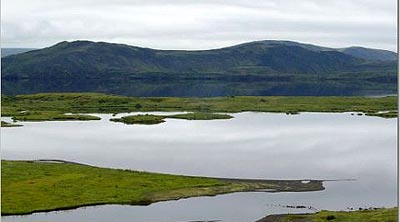 The tour of South Central Iceland began with þingvellir (the þ is pronounced as a "th" as in "Thor's Hammer"), the setting of the first parliamentary house established in 930 A. D. (and by "house" I mean wide, open fields precariously resting on a still-active rift between the continental plates of Europe and North America) and later, the first national park established almost 1000 years later. Close to the beautiful, crystal-clear þinvallavatn, Iceland's largest lake, one can see the Öxaráfoss waterfall. (Fun Fact #4: Women found guilty of crimes such as having illegitimate children were executed by being tied up in bags and tossed into the immensely powerful waterfall which led to Drekkingarhylur, The Drowning Pool!) At the wishing-well spring Peningagjá, we looked longingly at the numerous shiny coins glittering in the chasm that mocked our empty pockets. The pure silence and beauty of the area was palpable and it would have been easy to lose hours and hours just admiring the scenery.
On our way to the next spot, we stopped at a farm in the countryside for an unexpected treat of being greeted by the handsome Icelandic horses. Friendly, soft, and gentle-natured, the horses came right up to the road and allowed us to pet them. They were so docile and short-statured that we were tempted to call them "ponies," but our guide warned the group not to call them that because that would upset the farmers who take great pride in their purebred Equus scandinavicus.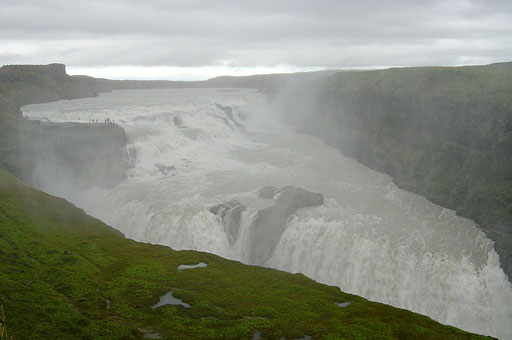 Gullfoss (the Golden Waterfall) provided us with a great place to take pictures of the glacial river Hvitá's long drop (11 meters and then another 21 meters of rushing, falling water) and to snack on granola bars (our version of lunch in Priceland). If the sun was shining, we could have seen a rainbow, but it wasn't and we didn't, and so we moved on to see the Great Geysir. The English word "geyser" is derived from the Icelandic word "geysir" which means gusher and all of the world's spouting hot springs are named after this one. The petulant Great Geysir was not in action that hour, but the nearby geyser Strokkur (The Churn) erupts every 5-7 minutes. If you time it just right and don't get distracted by a bit of sunshine that may suddenly appear behind you and wait for the big, blue bubble to appear at the mouth of Strokkur, you can catch its white column of boiling hot, sulfuric water that furiously shoots up as high as 20-30 meters.
On the way back to Reykjavik, we stopped at the 3000 year old explosion crater Kerió that is filled by a symmetrical green lake. We drove through the clouds along a mountainous path and Odin (yes, that was our guide's name) told us tales about trolls (apparently they like blueberries and dislike sunshine), the shortage – and shortness – of trees (Classic Icelandic Joke: What do you do if you are lost in an Icelandic forest? Stand up!) and golfers. Every town has a golf course because they are thought to be classy even though not many Icelanders play. Upon our return, we thought we'd try out the restaurant Pasta Basta for dinner and figured even Iceland couldn't get pasta wrong. Result: score negative two.
Day Four: Aloha, Iceland. Aloha, Denmark.
We had an early morning breakfast at Café Paris of smoked salmon (although at first, the waitress brought us some lamb; presumably, she heard "smoked lambon") that was very good and finally scored Iceland a positive point in the culinary ratings. Quick stops at Kaffitár for our last bit of award-winning coffee and croissants, at Hallgrímskirkja church that was built to resemble a jet of lava, and at our room to pack. We confirmed that the FlyBus that was to take us to the airport did accept credit cards (because at that point we didn't have two kroners to rub together) and bid adieu to Iceland and hello to Denmark.
Two and a half hours from the Reykjavik airport, we reached the Copenhagen Airport, the most anglophobic international airport I have ever seen. There were no signs in any language other than Danish, no easy-to-follow brochures or guides, and no complete maps or instructions that made it clear how to use the train and the new underground Metro system. Even pictures would have been nice. It was also quite strange that there was no customs line to go through, nor customs agent to whom I could have delivered the speech: Hello, Dread my lord, Your leave and favour to return to (Iceland); From whence though willingly I came to Denmark [Hamlet, Act I, Scene 2ish].
Amelie and I went to the DBS train ticket office and asked the agent for two tickets to Kongens Nytorv. The agent handed us a little slip of a receipt that only had a price and time stamp on it and assured us that it would cover all the modes of transportation we needed to take to get to where we wanted to go. We found the track at which our train was supposed to arrive. When a train eased into the station, we approached the conductor to confirm the destination of the train and the validity of our ticket:
"Can we use this ticket for this train to get to Kongens Nytorv?"
[Shrugs his shoulders.]
"I am not sure. Go ask that man."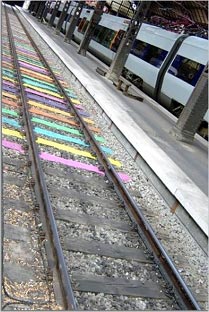 We looked way down the track to see a ticket-checker standing near the train. By the time we reached him, the doors had closed and the train pulled out. Turns out we could have taken that train. No matter. There was another one coming in 20 minutes. So we waited. And waited. And suddenly the screen that we had our eyes glued to changed. A Danish woman came up to Amelie and asked what was going on. Amelie explained that she didn't speak Danish, so the woman repeated her question in English. They looked up at the screen and then:
"Well, I think the train is delayed and is coming on another track," said Amelie.
"What?" asked the woman.
"Doesn't spor mean track?"
"Yes."
"And does forsinket mean delayed?"
"Yes."
"And does ændre mean changed?"
"Yes."
"Well, then, doesn't that mean that the train is delayed and the track has changed?"
"Yes."
While Amelie conducted an impromptu lesson in teaching the Danes Danish, some young gypsy woman tried to enlist my help in carrying her luggage onto the next train. She had one little rollaway and one mammoth-sized, hardback suitcase. She indicated that I should lug the gargantuan monstrosity even though I had two bags of my own. I suggested she take the larger of the two and I'd help her with the smaller. After I helped the woman onto her train (with nary a "tak" in return) and Amelie helped the Danette translate the announcements, we ran from Spor 2 to Spor 1 only to find out that our train had disappeared completely from the screen. Apparently, it was canceled and the next train was going to arrive on Spor 2. Back over the bridge, fuming and hungry and tired, we finally boarded a train that looked right, transferred to a driver-less subway car swarming with some unruly Danish children, and finally arrived at Kongens Nytorv, the biggest city square in Copenhagen.
We were too disgruntled to appreciate the beauty of the old buildings' architecture and the dainty lights brightening up the evening, so we trudged ahead and found our new lodgings at Olsen Residence. We were shown to our spacious, cheery room by some dude who may or may not have worked there. We tossed our stuff down and headed out in search of a meal because we had not eaten since that morning. We found a lovely Italian/Mexican restaurant, Mamma Rosa, with an attentive waiter and good food. Bellies full, we took an enjoyable walk along Strøget, 'the world's longest pedestrian mall' and then settled in to our room with its high ceilings, tall windows, lemon-colored walls, and soft beds.
Day Five: Børk! Børk! Børk!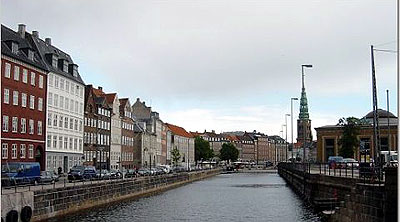 The local newspaper gave an explanation for the train debacle we experienced in a report that reviewed the latest problems the system had been facing. In response to the delays, canceled trains, and erratic scheduling, the locals have dubbed the system, "the blunderground." Knowing that the inconvenience and confusion we had encountered at the train station was not the norm somehow made us feel better.
We tried to find Rolf, the proprietor of Olsen Residence, to pay him for the room but neither he nor anyone else could be found. After breakfast at a little Quick-Stop café, we strolled down Strøget which is actually made up of five streets, all of which are packed with stores, restaurants, and tourist shops and dotted here and there with lovely fountains and squares. We checked our e-mail for free at the Use-It information center and loaded ourselves with maps, schedules, and tours. We reached the Tivoli amusement park and garden before too long (the new exchange rate is one American step to seven Danish steps) and turned around to walk along the serene canals. We sighed over the cloudy weather, examined our various maps and train schedules, and considered our options.
"I bet it's sunny in Sweden."
"OK, let's go there!"
We marched through the drizzly rain from Kongens Nytorv to the Central Train Station near the Tivoli, bought our train tickets ($20 per person round-trip), and headed off to Malmö, Sweden. The train sped over the Öresund Bridge, (Fun Fact: Connecting Denmark and Sweden, this is the world's longest single cable-stayed main span bridge carrying both road and railway traffic!) and 35 minutes later, we were in sunny Sweden. We picked up some maps and brochures from the train station (taking note that the visitor's card had a duck featured prominently on it). We wandered around the town engaging in our usual comparison shopping of postcards, bank exchange rates, and Swedish licorice and fish. Lunch, provided by our very own Swedish chef, consisted of cheeseburgers, fries and Cokes. We browsed around a huge H&M store, bought every flavor of Läkerol licorice, and took the scenic tour through the Gamla begravnings platsen cemetery and the Slottsträgården garden. We sat at the banks of a little pond where several ducks were paddling around to greet the visitors. See? The visitor's cards don't lie! We briefly looked at Malmöhus Slott (a 16th century castle that looked like a plain, brick warehouse) and then headed back to the train station (a bustling terminus that looked like a 16th century castle).
Back in Copenhagen, we walked up and down the length of the main street looking for a place to eat and finally decided upon a shwarma dive. A creepy street performer sat next to us and threw his woven bag down on the seat next to me. I could have sworn he had some sort of pick-pocketing monkey stashed away in there and so we quickly finished up our meal and headed over to the posh Café Europa which overlooked the Storkespringvandet Fountain, a popular meeting place during the day and apparently a handy urinal at night. After warming ourselves up with some pricey caffeine, we trekked back up to the Tivoli to watch the much-touted fireworks display. By midnight, when we realized there was not going to be a display of any kind, we returned to our room and called it a night.
Day Six: Hillerød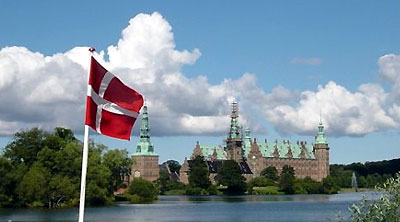 We began our day with a walk to Christianhaven across the inner harbor. We dodged the fleet of early morning commuters on bikes and cars, crossed the bridge, and found our way to the "free city" of Christiania, a little patch of alternative lifestyle clinging fiercely to the 1970s. We looked at the rickety, wooden sign and the ramshackle structures at the entrance, snapped a picture, and ran away before any hippies from Pusherstreet could get us hepped up on goofballs.
We strolled over and along the canals until we found a wonderful coffee shop, Baresso, near the Stork Fountain. Across from the "see and be seen" Café Europa, we were happily ensconced in Baresso with our daily special of croissants and café au lait, seeing people walk through the square but not being seen. At the Central Train Station, we asked for two round-trip tickets to Hillerød, a little town 30km north of Copenhagen. The agent gave us one yellow-colored, three-zone card, told us to clip it five times to get to Hillerød and another five times to return and that it would cover both of us. Amelie and I found our Spor and spent the next 25 minutes on the train wracking our brains trying to figure out how five clips on a three-zoned card could be evenly divided by two people. We were relieved that no ticket-checker came by to boot us off the train, and when we arrived, we followed the signs to the gorgeous, elaborate Fredicksborg Slot.
It turned out to be a bright, beautiful day and the sky was so blue, the clouds so white, and the grass so green and inviting that we lay down near the artificial lake amongst the ducks (roughly 50 to 60) and just sunbathed for a while. The sun shined brightly on the castle's towers and spires as we walked through the courtyard and admired the intricate archways and sparkling fountain. The castle grounds gave way to a lavish garden where we watched school children fishing off a tiny wooden dock in some shallow creeks with the sun glinting off of their white hair. Did I mention that the sun was out that day? Fredicksborg Slot was absolutely picturesque and charming and we had a wonderful time there. After lunch at a nearby brasserie, we returned to Copenhagen.
We had a great dinner at the Thai restaurant Wokshop where we shared various dishes of assorted noodles and some very pleasant elderberry juice. Our meal was followed by a walk back to Christianhaven to lounge around at Luftkastellet, a small man-made beach bar on the banks of the Inderhaven (inner harbor) with a fantastic view of Copenhagen. After night fell and a single firework went off over the water, we decided to head back to our place with every intention of returning the next day and just sitting on the beach in the sun all day long. (Cue the dramatic cliff-hanger music.)
Day Seven: Helsingør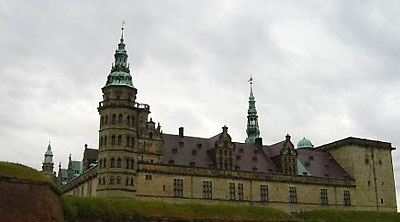 We began the day by exploring the side streets of Strøget and walking through the royal gardens of the city center alongside the guards (wardrobe presumably provided by the "The Wizard of Oz") at Rosenborg Slot. Creatures of habit, we had breakfast at Baresso and walked to the train station to go to Helsingør (making this our third afternoon NOT spent in Copenhagen). Smug with our understanding of how the ticket system worked, we boarded our train with no hassles, no delays, and no gypsies. Under an hour later, we reached the northern-most part of Zealand (supposedly – perhaps sarcastically – known as the "Danish Riviera") and walked to Kronberg Slot, also famously known as Hamlet's Elsinore Castle.
It was an appropriately gray and gloomy day as dark, cumulonimbus clouds gathered and posed threateningly above the castle. Although Kronberg Slot was not as imposing and grand as Fredricksborg Slot, we still had fun reciting some Shakespeare and, like the über-nerds we are, posing with a homemade origami skull that Amelie made on the train. Realizing that the "Alas, poor Yorrick" speech was made at a graveyard rather than the castle's courtyard, we paid our homage to Hamlet by acting mad. We strolled along the slice of the Öresund Strait that links the North Sea and the Baltic Sea and then returned to the train station just as the rain began to fall.
By the time we reached Copenhagen, it was raining steadily. We dodged bicyclists, sharp umbrellas, and deceptively deep puddles and opted for a nap before dinner. As luck would have it, we finally ran into Rolf, our host, and paid him for the room. He was laid-back, friendly, and very trusting because apparently he tells his guests that before they leave, they should just leave the money and the key on the bed. I spoke to some of the other guests and they had the same experience we did: no Rolf at check-in time, no sign of anyone during the stay, but happy with the clean, comfortable rooms in the prime location for low prices.
We slogged through the downpour to be rewarded with our new favorite restaurant: Sushitarian. It was close by, the waitress was very friendly, and the food was absolutely delicious. We had coffee at Mojo's across the street where we spent the better part of the night until they started to clean up around us and close. Back in our room, we packed, chatted, and finally got to sleep . . . perchance to dream . . . about ducks.